Be sure to come out to the Casa Nueva and enjoy O'Betty's Redhot!! 5th Annual Hot dog eating contest and fundraisor for ARTS/West!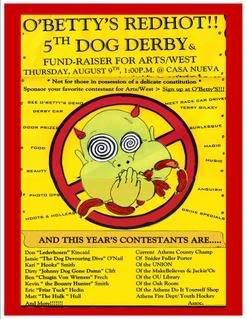 On August 14, 2007 at 6:30 PM:
The Business of Art Community Conversation. http://soartbiz.wordpress.com/

In collaboration, Hocking College, Ohio Arts Council, and Ohio Designer Craftsmen are presenting a two-day Business of Art workshop at Hocking College in Nelsonville, Ohio on October 20 and October 21, 2007. The workshop sponsors are planning much more than just a workshop.
Throughout the spring and summer of 2007, sponsors and other collaborators including Ohio University's Voinovich Center, ACE net and the Ohio River Border Initiative are conducting a series of community conversations to help create the workshop. Collaborators are inviting artists and craftspeople across Appalachian Ohio and western West Virginia to share their experience and ideas with the workshop planners.
The goal of the community conversations and the October workshop is to strengthen the ability of artists and craftspeople to respond to their business challenges by helping them build viable support networks that link them to fellow artists, to local business communities and to new marketing and financial resources. The community conversations, hosted by local arts organizations around the region, are the first step in this process.
If you are an artist or craftsperson and want to learn from other arts business people, start with the community conversation in your area and get involved in the Business of Art workshop in October.
ARTS/West invites you to attend our Business of Art Community Conversation on August 14, 2007 at 6:30 PM at 132 West State Street, Athens, OH.
The Community Conversations are designed to help participants connect with other arts business people in your area and identify local businesses and organizations that can support your work.